We have various Designs available, for example with or without centre (ie all louvres) or offset middle.
1.
 Select style and width of shutter 
(see our measurements page for measuring and shutter widths).
2. Measure the length of each window or door and order the shutters in the same lengths.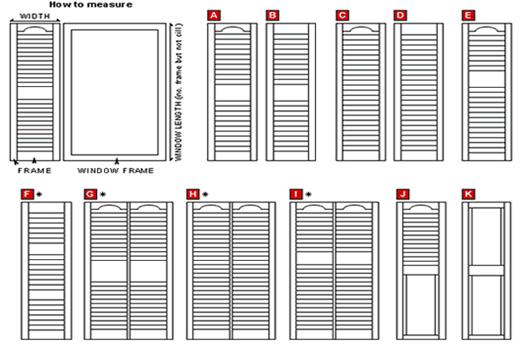 We have two types of tops:
straight
Cathedral

A – Cathedral Top with Centre Mullion / Centre
B – Straight Top with Centre Mullion
C – Cathedral Top – All Louvres
D – Straight Top – All Louvres
E – Cathedral Top with Offset Mullion / Centre
F* – Straight Top with 2 Centres / Mullions
G* – Extra Wide Shutter with Centre Mullion
H* – Extra Wide Shutter
I* – Extra Wide Shutter with Offset Mullion
J – Combination – Panel / Louvres
K – Panel – White Only
* Available in Cathedral Top and Straight Top options